Before Will Last Forever
by Neil Hanger, Head of Art at Leiston Middle School
On the Saturday 28th July we held a Private View from 3pm until after 9pm. We offered drinks, sold catalogues and had a barbecue. The works were arranged to provide a circular walk. There was a steady stream of visitors throughout the afternoon and evening. We estimated that there were at least 300 visitors. The intention was to provide an opportunity for artists to show their work to a wide audience attracted to the unusual and eye catching nature of the show. This was achieved.
A large number of people from the village visited the show. The public footpaths across the site provided excellent access to the exhibition and some local people walked their dogs around the exhibition daily. The show provided a point of focus for the local artistic community. The majority of the participating artists attended the private view. Many remarked how nice it was for such a large group of artists to meet in this way. Some artists commented that having the deadline of the exhibition was beneficial for their personal practice.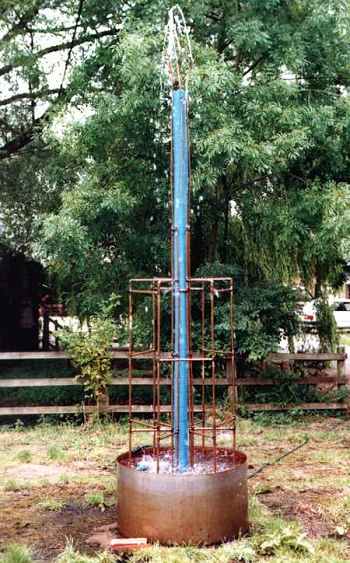 Country Roads Follow the Cows Home by Andrew Smith
By using redundant farm buildings as our site we drew attention to the changing uses of the local landscape as agriculture changes. The foot and mouth crisis and the resulting media interest in farming provided a context for the exhibition and informed some of the work. There were many comments by artists and visitors about the poignancy of the empty buildings and the changes in farming highlighted by the show.
The Comments book records a number of positive comments. Press & newspaper coverage was positive and the exhibition featured in twice in the Diss Express, a large spread in the East Anglian Daily Times and an article in Art East. Paul was also interviewed live on BBC Radio Suffolk. Visitor numbers are very approximate due to the nature of the site and the exhibition. Ian Smith, the farmer who owns the site, calculated that on average about 50 people visited the site each day. Many were families with children and others returned to the site more than once. With the numbers that visited on the day of the private view we calculate a total of about 1000 visitors to the exhibition. Visitors came from Bury St Edmunds, Ipswich and from parts of Norfolk. A number came from further a field including London, Leicester and Peterborough. Jack Crampton's piece Fibonaccic Motion in Continued Circles SequenceArtists taking part came from a wide area of Suffolk. Some came from the Felixstowe area, Ipswich and Bury St Edmunds. Ian Smith also commented on the way that the passing traffic had slowed down for the two week duration of the project. Cars passed the site at an approximate average of 1 per minute. Part of our aim had been to create a 'drive by' art exhibition. Julian Brooks dRAIN In the longer term our proposed use of the site has combined well with the farmers changing role as a steward of the landscape looking for alternative and more environmentally sound uses of the landscape. The farm has benefited from the publicity and interest in the farm. We hope that we have shown that the artistic use of farmland is potentially a revitalising and dynamic use of land, bringing it into use by the local community in an active way. For us as a community arts group the longer term benefits have been to develop what we do to a higher level with more professional presentation and organisation. Brain Drain by Graham Portlock Our next show will be ShopBox which is part of the Harleston and Waveney Festival. Twenty artists, twenty cardboard boxes and twenty shop windows. The centre of Harleston will become an art galley from 25th April to 11th May 2002. For more details email us or check out the website. Archimedes by Rob Rutterford, Head of Art at Saxmundham Middle School Coil by Charlie Hawkins