Drain
An art exhibition
Paul Cope and Andrew Smith are both Suffolk art teachers and also form an extremely small community arts group. We have organised four art exhibitions in the local area over the last four years and are currently working on our fifth in Harleston.
We started in 1997 with Chair at the Halesworth Gallery. We gave 45 artists a village hall chair and asked them to return it transformed into a work of art. Hair has been running for four years in a hairdressers shop window in Bungay. A different artist uses the window as a display space each month. This has been catalogued on this website. Air took place in 1999 on the marshes in Aldeburgh. 45 artists were given a wooden post to transform into an art object. And in July 2001 we organised our biggest show yet; DRAIN. We set out to give 45 artists a 4-metre length of cobalt blue unperforated land drainage pipe to inspire a piece of work.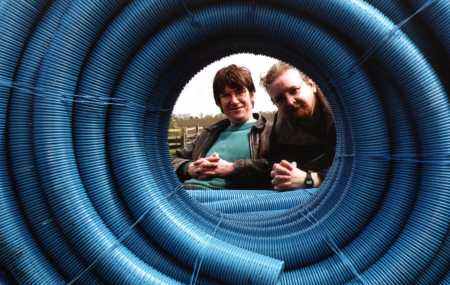 Andrew Smith and Paul Cope, organisers of Drain, Chair, Hair,
Air and now ShopBox
Our exhibition organising has been about creating a different sort of opportunity for local artists to show their work. We have used objects derived from the local rural community to provide a theme and cohesion to exhibitions of varied and disparate work made by a range of different sorts of artists. On this occasion our selection of the blue plastic pipe provided both a challenge to the artists and a remarkably resonant theme to the exhibition. It was pointed out that without land drainage modern farming would not have occurred. The technology of draining fields is historically crucial in the development of farming. The material also tied the exhibition into the landscape of the farm and the thoughts and feelings engendered in the audience about farming. Many found this to be very poignant as the farmís change of use highlighted the changes in farming in Suffolk for many. The exhibition also coincided with the foot and mouth crisis which provided a further edge to the show.
David Whatley
Die Oxen > Dioxin
We approached local companies asking for sponsorship and Atlantic County Superstores were very kind and agreed to provide us with 200 metres of pipe. We arranged the show by sending out invitations by letter to selected artists asking them to take part. We invited artists from the local artistic community in order to ensure a good and varied standard of work in a balanced exhibition without setting ourselves up as a selection committee. We invited a range of different sorts of artists based on personal contacts, seeing exhibitions of work and personal recommendation. Artists who wished to take part paid a fee and we delivered a 4-metre length of pipe to them with the arrangement that they would bring the resulting artwork to our venue on the delivery day of 25th July. Artists were also asked to bring a piece for exhibition inside the barn gallery. We prepared and had printed invitation postcards and A3 posters.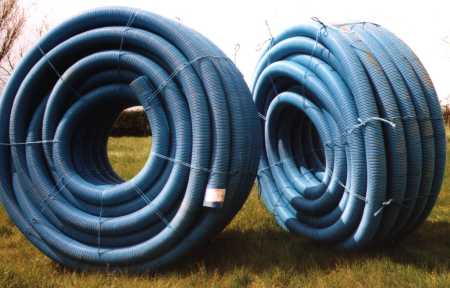 200 metres of land drainage pipe supplied by Atlantic County Superstores
On delivery day at the venue we organised the majority of the pipe pieces on the meadow at the front of the site. Some 3D works we sited in a large Dutch barn at the rear of the farm and in two silage clamps. 2D pieces we arranged in the barn gallery in an upstairs grain store. On the day we photographed the works in situ with a digital camera, downloaded the images into a PC on site and pasted the images and details into a catalogue of the exhibition. This was printed out the next day and photocopied and bound by the Adshop in Halesworth. An example can be purchased from us for £5.An email will secure!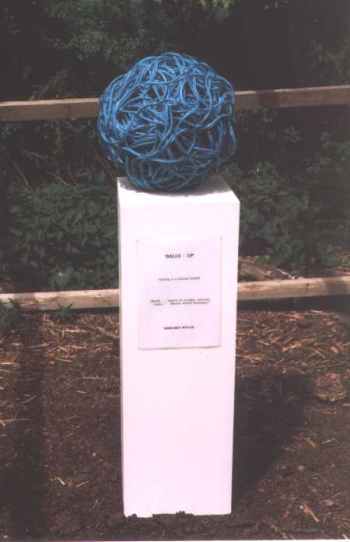 Balls Up by Margaret Wylie (Currently on show at Crossing the River at Christchurch Mansions, Ipswich)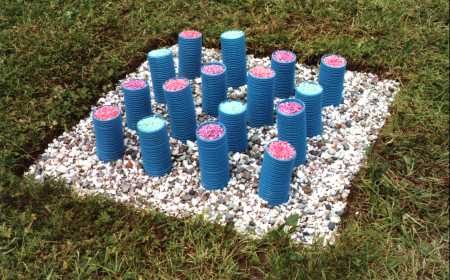 Sherbet Drainage by Kate Reynolds